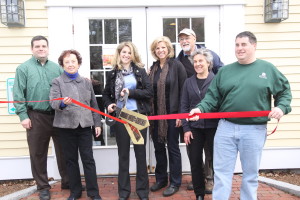 North Reading, MA – Denaro Chiropractic, which opened its doors in May 2013, announces its Grand Opening! Dr. Abbey Denaro is inviting the community to join her in celebrating the grand opening on Saturday, October 26th from 1-4 pm at 286 Park St, North Reading. The ribbon cutting ceremony will begin at 1:00 followed by free chiropractic screenings and festivities, including Halloween themed games, complementary food and beverages, and raffles sponsored by The Horseshoe, Lumina Salon, Play It Again Sports, and many more. As part of the Grand Opening, Denaro Chiropractic will be donating 50% of new patient proceeds to the North Reading Athletic Boosters.
Dr. Abbey Denaro, a North Reading native, returned to her hometown to open this practice for the community. "My intention is to be a trusted resource for health care", she explains. "Chiropractors have a non-drug, non-surgical approach to health and wellness. My goal is getting you well by aligning the spine, allowing the muscles to balance, and restoring proper biomechanics so that the body can function, heal, and perform the way it was meant to. "
Since opening in May, Dr. Denaro has been involved in the community by volunteering her services at local 5K races and educating moms-to-be about prenatal care at Lowell General Hospital.
The opening of Denaro Chiropractic is an important step towards creating a healthier community and bringing awareness about holistic health care. The office allows for a family-friendly environment and Dr. Denaro holds monthly educational events about nutrition, posture, relaxation techniques, etc.
Dr. Denaro helps people of all ages with conditions, such as headaches, migraines, scoliosis, joint pain, TMJ, sports injuries, and more. She specializes in prenatal and pediatric care and is certified in the Webster Technique for pregnant women. She is active with the International Chiropractic Pediatric Association, which focuses on helping those with birth trauma, ADHD, autism, etc.
"The reasons for seeing a chiropractor extend beyond relieving pain", explains Dr. Denaro. "Chiropractic patients report an improvement in pain symptoms as well as feeling calmer, more focused, and happier. While most people come to get adjusted because of their pain, they are surprised that other health conditions, like constipation, allergies, depression, and frequent colds also improve."
Dr. Denaro understands that part of being there for her patients includes being flexible with scheduling, which is why the hours are by appointment. For more information about the Grand Opening or to schedule an appointment, contact Dr. Denaro at 978-664-1500 or visit www.DenaroChiropractic.com.