If Raking Leaves You in Pain
Autumn is perhaps the most beautiful season, especially here in New England but it also means it's time for yard work. Raking leaves can be a great workout since you can burn up to 300 calories per hour. Unfortunately, since we only rake the leaves a few times a year, our bodies are not conditioned for the stress load. According to the US Consumer Product Safety Commission, nearly 28,000 people suffered injuries from raking in 2008.
Here are some tips from your North Reading Chiropractor to help protect your back and joints this fall: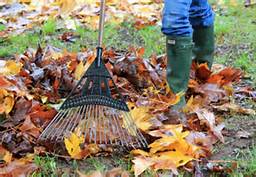 1. Use a good quality rake. It may seem like a lighter rake would be easier on your back and shoulders, but actually a heavier, ergonomic rake will allow you to do less work. The ergonomic style rakes, like the Snake Rake also means less twisting is required.
2. Warm up and stretch first. Burning 300 calories an hour constitutes raking as a good aerobic exercise. As with any exercise, it's important to warm up first by taking a brisk walk. Stretching before and after you rake will loosen up your muscles and will encourage them to be less sore when you're done in the yard. Focus on stretching your back and neck, shoulders, and legs. For stretching videos, click here.
3. Rake using small sweeping motions rather than long ones. Remember to move with the sweeping to avoid twisting and over-reaching. Switch your hand positions frequently to distribute the workload evenly between your right and left sides.
4. Be sure to drink plenty of water before, during, and after. When our bodies become dehydrated, it can lead to muscles fatiguing early and becoming more sore later.
5. Plan accordingly. If you know your body is de-conditioned and you expect to be sore afterwards, schedule your chiropractic adjustments before you spend the weekend raking. This will ensure your back will be ready and able to handle the strains of the work. If you do not have a chiropractor, schedule an appointment to correct any existing spinal problems that will cause unnecessary pain.
6. Rest. Our bodies heal the most while we rest. Making sure your spine is well aligned after you rake is important for muscle and joint healing to occur.
Take better care of your body than you do your lawn! To schedule an appointment with Dr. Abbey Denaro, please call 978-664-1500 or schedule online.